O my Luve's like a red, red rose
That's newly sprung in June;
O my Luve's like the melodie
That's sweetly play'd in tune.
- Robert Burns
Tomorrow is Burns Night. In towns all over Scotland people will be boiling haggis and lifting their whisky tumblers while reciting poems written by Scotland's favorite son. As you all no doubt know, Hogwarts is in Scotland. Situated up in the Highlands, where men are men and sheep are scared... This week in honor of Burns Night, and the location of our beloved Hogwarts, I have decided to focus on sexy men in kilts. Usually I put up men and women who have names. Not this time. Don't get me wrong, I am sure that their mothers gave them names, but today they are just men, most of them without shirts, wearing kilts.
It's alright that you can see the top if their rear's because this photo is obviously supposed to be artistic.
Not sure if this long skirtish thing counts as a kilt, regardless of the tartan used to make it, but this man is hot and wearing a top hat. How can you argue with that?
Obviously a face isn't required to be hot. Take this tasty picture of the Headless Kiltman for example...
Kilt? Check. Bare chest? Check. Hot? Check. These are some of the men who have been featured in the Lawson's Whisky commercials. You can find them on Youtube. They are hot there too.

I decided to add this last picture just in case anyone was curious as to what a man wears under his kilt.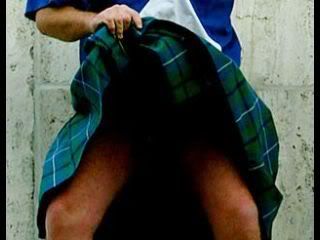 Remember ladies and gents, real men wear kilts... and they usually don't wear anything under them.
See you next week. Same hot time, same hot channel.