As September draws to a close, it's time to turn our attention to lace - but not just any lace. No, what we're after this week is
doom lace
. Or doomed lace, if you'd rather. Following are the Detention projects whose tangled decreases and tricky yarnovers earned them the <del>dreaded</del> coveted Sybil Trelawney Grim Award.
We begin with knitreaver's Frozen Leaves, a cool and elegant design that saved Ms. Reaver from the uncooperative clutches of a certain shawl named Percy.
Next up, QallieQ's Age of Brass and Steam, which a helpful house elf unraveled for her halfway through.
And speaking of house elves, CraftyGryphon, deserves a badge for this beautiful tribute to Dobby, who was A Free Elf.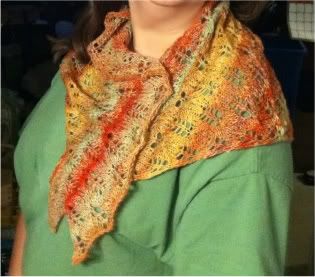 Dobby's not the only hero in this thread. Terik nobly sacrificed her Ophidian to teach us all a lesson about lifelines. (Well, most of us. I'm not naming names.)
Next, demonstrating that sometimes the source of Doom is on the needles, Momofpeg's mini Atreides, a modification made necessary by recalcitrant yarn.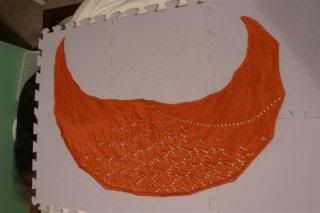 And to remind us that sometimes Doom is on the page, not in the hook, deadalchemist brings us nearly 1,000 yards of crocheted lace, soaked with her blood and tears.
RockyMoreno, a Slytherin on Sabbatical, defeated the forces of sewing and inertia to finish A Little Karma just in time to enjoy the last warm days of the year.
And finally, Bastet0330 proves that Gryffindor has no monopoly on bravery (or stubbornness), with an Alcyone in a yarn she hated, from a pattern she never made friends with.